Sheraton Club
Update in Progress
All of us at Sheraton Springfield Monarch Place Hotel are pleased to have you staying with us. We wanted to share some updates related to our current Sheraton Club transformation.
To continue offering our guests an enriching experience, we are excited to announce the renovation of our Sheraton Club level. Please note that construction will be completed in March 2017. During this time, Club level guests can enjoy the following complimentary:
Daily breakfast in PICKS
An appetizer & beverage (non-alcoholic) in MVP
$5 voucher for our pantry
A Sheraton Club stay is more than a room. It's an elevated travel experience, filled with exclusive benefits and special touches. And with extra amenities designed for your convenience, it's easy to stay productive on-the-go. Make the most out of every stay at Sheraton Club.
"The beds were so comfortable, the staff was very responsive and the Club room was perfect in the morning. We're glad we picked the Sheraton."

Sheraton Club Guest Review
Enjoy Exclusive Benefits with Sheraton Club
Exclusive Access
Enjoy VIP treatment with private, round-the-clock access to the Club lounge and preferred rooms.
All Day Benefits
Help yourself to breakfast, evening hors d'oeuvres and a full range of business supplies and services.
Personalized Service
Relax knowing that Club Managers are on hand to help personalize your experience.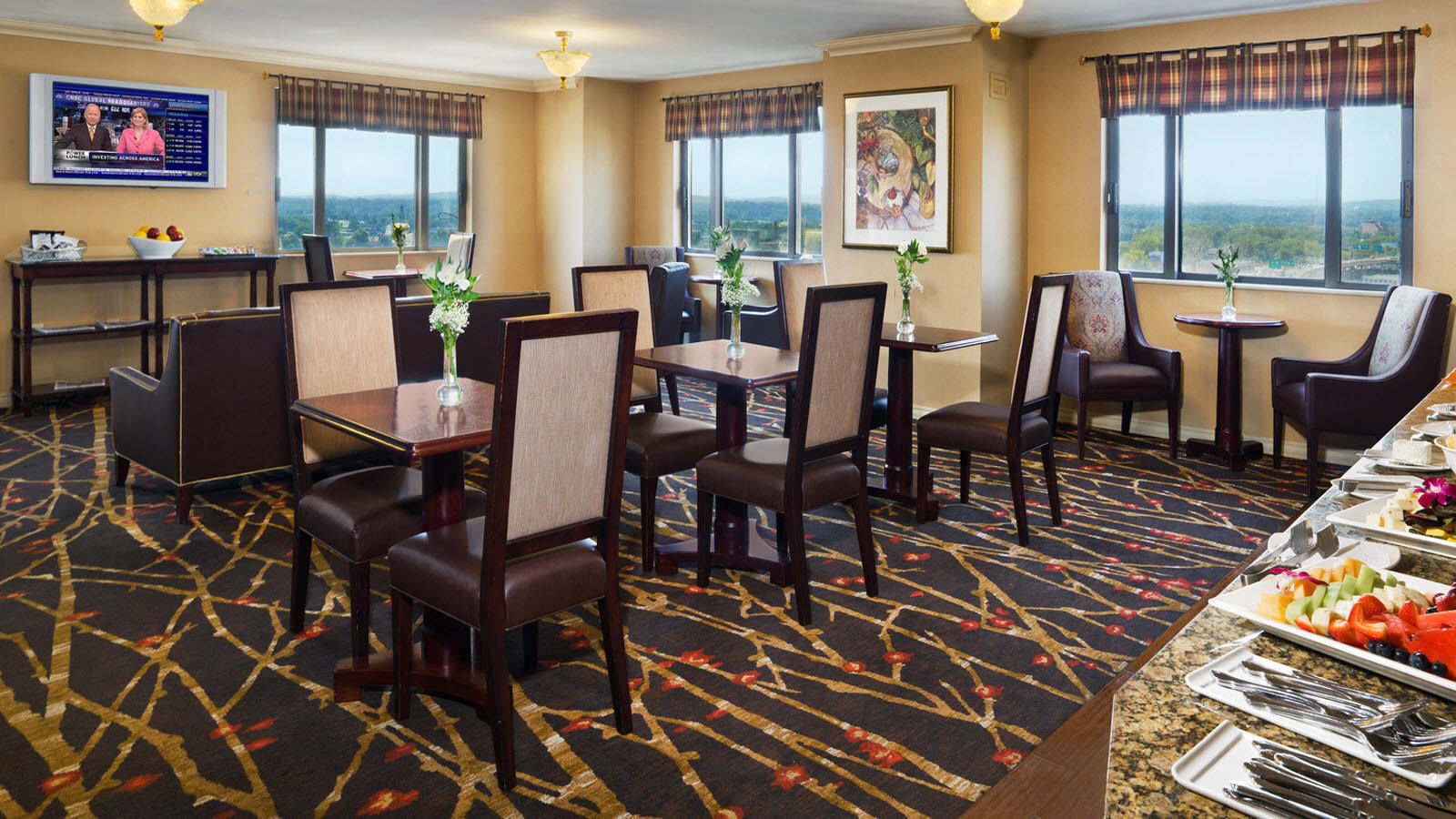 Exclusive Access
Sheraton Club guests receive:
Keyed access to a private Club lounge
Open 24/7
Private meeting space to gather with colleagues or just relax
Guest rooms on a separate executive floor
All Day Benefits
Exclusive amenities in the Sheraton Club:
Daily breakfast for two
All-day snacks and beverages
Evening hors d'oeuvres
Starbucks® Coffee
Free WiFi
Business center services
Personalized Services
Sheraton Club Managers are available exclusively to Club and VIP guests.
Common requests include:
Arranging early check-in
Room preferences
Dining and event reservations
Airport and local transportation
Printing and technical support
Club Lounge Details
Open 24/7
Deluxe continental breakfast is served Monday-Friday from 6:30–9:00 AM and Saturday & Sunday from 7:00–11:00 AM
Snacks and beverages are available throughout the day
Evening hor d'oeuvres are served daily from 5:00–9:00 PM with alcohol for purchase
Copier, fax, printer and complimentary office supplies are available.